Are you looking to beautify your home? One way to do so is by investing in siding. It may seem like a daunting upgrade, but it can have a massive impact on the value of your house. This is especially true if you're planning on using wood siding. It's one of the best, if not the best-looking option there is. Unfortunately, this material also comes at a high cost. But this shouldn't stop you from achieving the exterior you've always wanted. Here's how you can install wood siding on a budget.
Plan
This is the most basic advice any homeowner can get. Plan out your project. It gives you a guide on what to expect and what to do next. Not only will it help you save money by avoiding unnecessary costs, but it also helps save you time and resources. Your plan should include:
A reasonable timeline of the entire installation process
Where you're going to buy the materials
The type of services would you need from a contractor
Although it's tempting to ask a professional like an architect, that's just going to add to your cost. Siding isn't too complicated, and typically, doing extensive research should be enough. And as much as possible, don't cut corners because you might end up having to do the operation again.
Hire a Good Siding Contractor 
Wood siding is notorious for being expensive to maintain. The best way to avoid future issues and absurd maintenance costs is to ensure that your exterior is installed correctly. Of course, it all comes down to the skills of your installation team. Take your time to shop around and choose the best contractors. They should:
Be able to prove that they're properly licensed and insured.
Have a reputable portfolio of finished work
Have good reviews online
Be able to answer all your questions and concerns
If You Can, Hire Local Contractors
This is a good tip when you're tight on budget but still want to use wood siding. See, when you hire local contractors, they can quickly respond to you when you need their help. On top of that, you might be able to negotiate discounts together with the shipping costs of the material.
Use Engineered Wood Siding
Money is your major concern now, right? If you're not keen on keeping things authentic, there's no shame in using engineered wood over traditional wood. In fact, this material provides more protection, color options, and lower maintenance requirements. But how? What is engineered wood exactly? Well, it's natural wood treated with extreme heat and pressure to remove the disadvantages that come with it. Ironically, it's cheaper despite having more benefits. The only downside to engineered wood is that it's not real wood siding. So basically, you're only sacrificing authenticity, although it pretty much looks like natural wood.
As Much as You Can, Avoid a DIY Installation
You might think that you're better off saving money by doing the installation yourself. Well, this might be true if you're trying to install cheap siding like vinyl. But remember that this is wood siding. It's expensive. One wrong board might cause water to look through and cause the material to rot. You don't want that to happen, right? So go on and entrust the jobs to professionals. It may seem like an extra cost, but it's actually persevering your exterior integrity for the future.
Consider Combining It With Another Siding
On average, wood siding costs $6.50 to $12 per square foot to install. Based on that, it'll cost you anywhere from $9,750 – $18,750 to coat a 1,500 ft. home. That's too expensive! But no worries. You don't have to wrap your house with wood completely. Fortunately, this material blends smoothly with other siding types and looks dashing when combined. It's the trend to combine wood with other exteriors for modern and contemporary homes. Just make sure you have a drawn plan to look at before buying the materials. This way, you'll know if the combination fits your liking.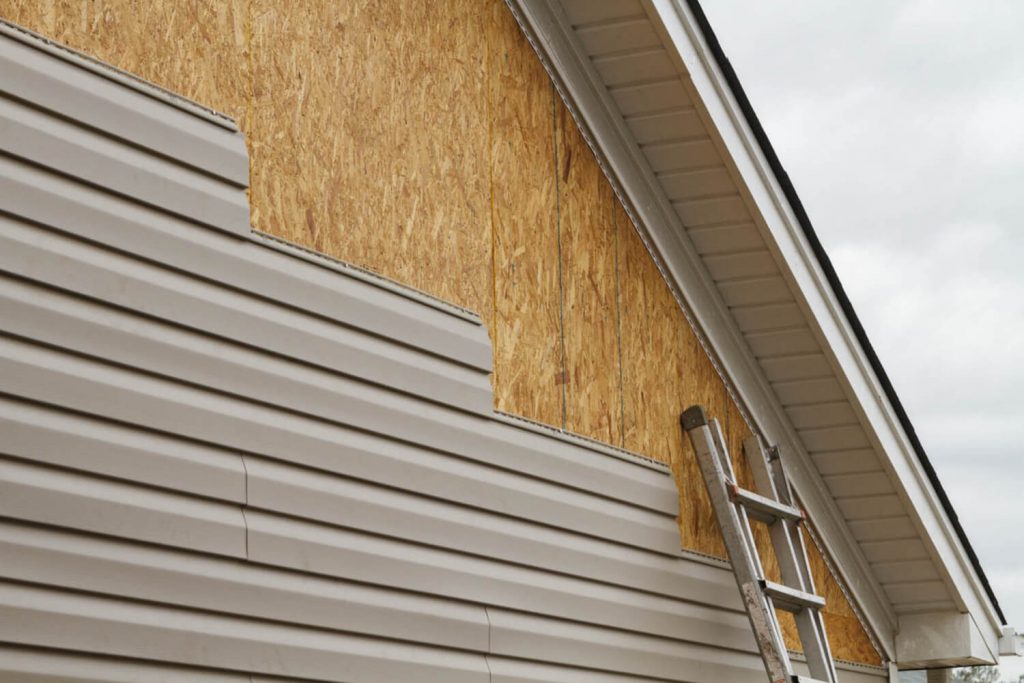 Wood siding is already expensive on its own that there are only a few ways to save up on it. Generally, it all boils down to ensuring a proper installation process so your initial investment won't go down to waste. Also, be sure to check your siding every now and then to apply minor repairs as soon as you can!